Walking through Hallowed Ground, Gallery Lombardi's latest group show, is a little like running your radio up the dial as you cruise through a big city. Between static and blips of silence there are familiar riffs, a few muzaks, bits of trance, twang, lush orchestral bubbles… then a wash of sound so alluring you nearly forget you are behind the wheel.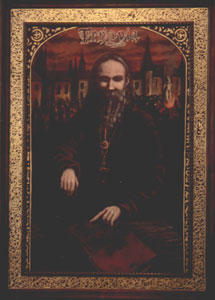 And so it goes on the Lombardi wall. This is a big exhibition, nearly 100 pieces from 67 artists — following the gregarious precedent set by MexicArte Museum in its early days. In Lombardi's much smaller space the result can be a nebula of visual noise, but one that clears on a need-to-see basis.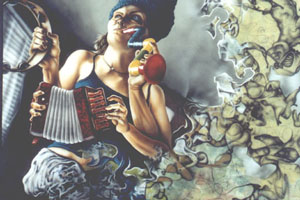 The elevation painting for Hallowed Ground is Stanislav Grezdo's Malleus Malificarum — a large, glowering portrait of a 15th century witch-hunter, his hand on the infamous tome. On either side of that smoky doorway, Halloween's usual raillery kicks in — dopey slaughterhouse humor and slithering masquerade.
From there the show spreads out to embrace the whole, unwieldy realm of religious belief and perplexity. There are demagogues as well as demigods: Hindu deities vie with Microsoft road kill and weird little Mercer Mayeresque teddy-parasite hybrids.
My own "need-to-see" led me to three zones where the artwork seemed to argue together. The first area — what I came to think of as the Weirding Wall — is toward the back of the building, where a cluster of small, rude works hit the horror theme directly. David Breihan's Woman Chasing Eyeballs, Indecisive Samuria by self-taught artist Joey Marez, and Kimberly Porras's discomfiting Ladder reveal textured, raw figures well into their ominous activities. Tony Sansevero goes for a more subtle chill with the delicate watercolor and line of Within Us, an erotic-comedy figure that borders on pathos — powerful, but wrangled by the threadlike lassoes of her underling Others.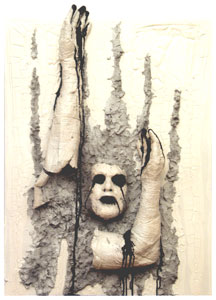 Across the room from the weirding wall is the Wisdom Wall, given over to a group of paintings and constructions that seemed aloof from the ebullient fracas of the rest of the show. Peter Velasquez's two metal assemblages — with their elegant and faintly bitter titles Techno-eschatology and For all of the Suicides and Inventors of Human Flight — are rusting hemopoetically next to Aldo Valdes Bohn's Anatomia de un Angel. Bohn's Anatomia — part supernatural history, part diagrammatic drawing — seems lifted from a 19th century specimen collection, an echo of the echo sounded by angelologist Remedios Varo. And while Craig Johanns" Grace might have offered a different meaning in another neighborhood, placement among the intelligentsia lent a transcendent energy to it's macabre, dissolving figure. Christy Klug's simple repetitions of St. Teresa's face (the tranquil French Teresa, not the impassioned Spanish one) glowed like empty mirrors between the wisdom wall's more introspective works.
The third zone was near the entrance, in a corner suggested by a partition. It began with Pat Falconer's Ecumenical Potluck, her whimsical religious figures tricked-out with the trappings (and anti-trappings) of their spiritual day jobs. To the right of Falconer's Potluck a partition displays three works so comfortable with one another that they might have been the brainseige of a single artist. The center work is one of Donna Pardue's sumptuous apple-flesh sculptures, The Ears of Sundry Gods, perhaps shed by the deities upon growing new ones, and flanked by two wizened hands in tiny gestures of benediction. All three works are carved from apples, then compelled to dry with the wrinkling and coloration of human skin. Creepy and beautiful.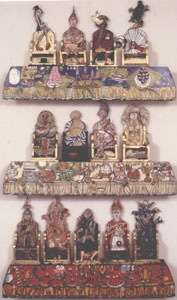 Floating above these pseudo-relics is an enormous golden portrait of the Buddha by Viswajyoti Mohrhoff. His ears, still firmly attached, are depicted with traditional elongated lobes, one of the Tathagatha's 32 marks of awakening. Still, with the shriven earlets below, it isn't hard to imagine that the elephantine appendages might someday plop into one of Pardue's display boxes. The third work at the bottom of the partition was an assemblage by A.E. Davis entitled Resonant Vessel, a hand-turned fiddleback maple chamber mounted on a mirror — the title reminding us that light echoes no less than sound. While two of the world's major religions have given us Jerusalem's Wailing Wall — especially tumultuous these days — it only took three artists (with a little help from curator Rachel Koper) to fortuitously create its counterpart "Listening Wall."
Suffering and transcendence appear in many of the artworks, but are roughed-up and teased by the overall purpose of Halloween: to laugh at Death. Out of nearly 100 works, more than a third featured some form of crucifixion. Ron Prince, gallery owner and juror, remarked of the submissions: "It is amazing how many things artists put on the cross — dogs, naked women, farm equipment, to name a few."
I have always thought it a curious oversight that Christians have a day to celebrate the revival of their hero, but nothing to remark his deathday. Perhaps Hallowed Ground, a Halloween show bristling with crosses, has seeded a new holy day in the ecumenical calendar — could we call it Eastere'en?
Alana Keres, Experimental Ontologist, lives in Austin, Texas.