H. C. Westermann's life was a flamboyant bundle of contradictions, and his art is full of his life. "Every drawing I make is a portrait," he said, and his imagination was capable of populating a circus sideshow with impish grotesques.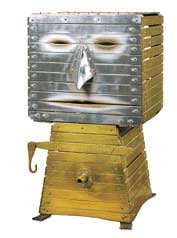 But if Westermann's persona encompassed both the rubbernecked geek and the dapper con artist, his true posture was that of antihero, a gregarious loner who signed his letters "Cliff," sometimes with an anchor like the tattoo on his arm.
Over 26 years he produced several distinctive bodies of sculpture: totemic figures, houses, death ships, vitrines, boxes, tools, and a number of pieces so weird they defy categorization. Each group is well represented at the Menil Collection, even though the 82 works on view are a significant reduction from previous venues of this exhibition.
The decision to use carved, joined, or laminated wood as a sculptural building block was a radical departure in the late 1950s, when Westermann began to craft his first house-shaped figures and personages, but it did have roots in the marquetry boxes his grandfather and uncle created. The best works in this vein, like
Imitative Knotty Pine
, succeed by energetically revealing the means of their construction even as they hermetically entomb content.
All of Westermann's work is scaled to the human body — he never aspired to the monolithic gestures of his Minimalist contemporaries. Whether gaudily painted or fetishistically adorned with brass or wood inlays, his houses pose dilemmas (Mysteriously Abandoned New Home) or theatrically reexamine personal dramas (Burning House). The totems are either proverbial (Memorial to the Idea of a Man if He Was An Idea) or informed by Westermann's burgeoning interest in sci-fi and extraterrestrial life forms (The Evil New War God). One of Westermann's chief innovations, along with Joseph Beuys, was the vitrine format. Whether they contain Death Ships (Death Ship Run Over by a "66 Lincoln Continental), cartoon characters (The Rape of "Cracker Jack"), or zany amalgamations (Wet Flower), many of his boxes and vitrines suggest sarcophagi for the internment of dreams, desires, real menaces, and imagined fears.
This places a heavy psychological load on the work, and Westermann's voice, so often manifested by a surfeit of personal references and figurative components, is an overachiever's confessional narrative. Growing up in Los Angeles, he garnered a job offer from Walt Disney Studios based on drawings he submitted for
Snow White and the Seven Dwarfs
, although the offer was rescinded when the studio learned he was only sixteen. A petite man, he took the Charles Atlas route and transformed himself into a finely muscled acrobatic performer, developing a hand-balancing act with a friend and performing three-a-days in Long Beach before touring Asia as USO-sponsored troop entertainment. Although under age, he enlisted in the Marines in 1942. Serving as a gunner on the aircraft carrier
USS Enterprise
, he witnessed another ship wrecked and burned by a kamikaze attack. The pulp fiction quality of his youth is captured in a 1958 photograph that poses him barechested on a Chicago street, a swallow tattooed onto each well-developed pectoral, a jesting grin on his face.
Persona and personal history aside, many of his best sculptures, like Homage to American Art (Dedicated to Elie Nadelman), Big Leaguer, and Antimobile, do not confess, and are not figurative at all. Instead, they hybridize the utility of tool forms into a reverently absurd uselessness that Marcel Duchamp would have admired. Donald Judd certainly did, stating in a review that "These are very much objects in their own right, direct though their meaning is recondite."
Westermann was an inveterate letter writer who overfilled the margins of his text with all manner of diagrams, cartoony reminiscences, and plans for artworks. The six letters at the Menil amplify his uniquely melodramatic literary style, as do the sculptural correspondences he addressed to William T. Wiley, Terry Allen, and Ed Ruscha; each convey a gruffly masculine familiarity, a collegiality that is both is a challenge and an endearment.
As proud as he was of his woodworking abilities, Westermann was an energetic but indifferent printmaker. In his hands, lithography colors are always more lurid, woodblock lines always more stolid than his original. But See America First, the corresponding show at the Contemporary Arts Museum, provides the drawings that that are so conspicuously absent from the Menil. The twenty-odd original studies for print images, executed in the 1960s and 1970s, are landscapes populated with all manner of antediluvian or modern exotica. An Affair in the Islands recasts Westermann as a Clark Gablesque leading man who, having made land, invites a stunned native woman to tango while his luridly lit ship lurks in the harbor (he met and married his first wife in Shanghai while on a USO acrobatic tour). So many oddball narratives poured out of his hand with such wide-ranging associative freedom that comparisons with Saul Steinberg seem natural. Particularly stunning are the studies for the seven lithographs that constitute The Connecticut Ballroom, which expands Westermann's interest in marine and aeronautical disasters to include alien menaces and eco-disasters.
Formalist critics like Clement Greenberg denounced the messy intrusion of life into art as kitsch, and for much of his career Westermann was necessarily (perhaps happily) an outsider, albeit one respected by artists and with a measure of commercial success. Throughout the 1960s, his work set a liberating example in his native Chicago, where it helped birth the bizarro figuration of the Hairy Who artists. In northern California, artists as divergent as William T. Wiley and Robert Arneson adopted his example and began writing their life into their art, creating works critics called "funky." They in turn referred their students (most prominently, Bruce Nauman) to the virtues of correspondence with their wild Chicago chum.
The funky mixture of life into craft that Westermann preached found few further takers. Compare Westermann's testimonial, stamped into brass and affixed to 30 Dust Pans ("I made each one of these by hand and by that I mean I did not sub-contract them to a factory or pay some guy to make them for me. Each handle was hand formed and not made on a lathe.") with the designed-to-be-fabricated mentality of many contemporary artists, and you understand the different route the art world took. As the Menil show makes clear, Westermann's aesthetic remains indivisible, his alone.

H.C. Westermann was organized by the Museum of Contemporary Art, Chicago.

Christopher French is an artist and writer living in Houston.