Lawndale has got to be the busiest artspace around. With four simultaneous shows, it's almost too much to see all in one visit.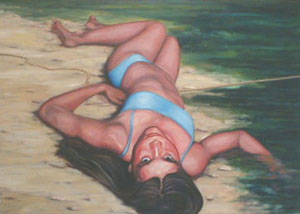 In the main space, John Holt Smith's Swim paintings present bikini babes and classic cars, juxtaposed with slightly disturbing images of ropes and dark woodland lakes. The show reeks of high school eroticism with teen horror film overtones. The best paintings are the three "girlfriend" paintings, young women in bikinis painted from flash photographs. Holt manages to capture their ambivalent camera-aware uneasiness even as they display themselves for appreciation. Large-scale figure painting is tough; it takes guts to go up against all that history, but Smith's paintings have a ropy, amateur quality that, though partially disguised by intentional stiffness, is distracting. Put it this way: they're badly painted, but they're inconsistently bad; part stiffly photographic (good), partly inept, impatient paint handling (no good). Though more carefully painted, a wall of swimming figures distorted by ripples lacks psychological punch.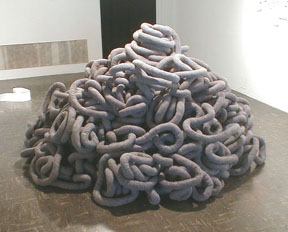 In the small gallery, Edie Tsong's Collecting Time documents the passage of time by recording the minutiae her life. Linear Thought, a wall of collected paper scraps, to do lists and doodles presents a candid view into her daily life, from the ordinary "be back in five minutes" to the question begging "blind date." Matter of fact , in the center of the floor is a mound of turdy felt, like the coiling gray excreta of daily life. Despite the time spent in its sewing, (a third piece, Diary of a Matter, totals up the hours Tsong has spent sewing the turd on strips of paper like an adding machine roll) the turd suffers from lack of commitment. There comes a point in all process art when a critical mass is reached; the artist's dedication and/or folly in pursuing whatever mindless activity they have chosen becomes more important than the product itself. Tsong should show this piece again after ten years" more work. Of the three pieces, the collected documents are the most poignant. They recall not just the tedium of life, but the tedium of a specific life; casting high existential drama in terms of a mass of undigested trivia, trying frantically to freeze time by grabbing every little minute and sticking a label on it.
In the smallest gallery, Steven Murray's Ships in the Bottle get a double take: ships, bottles, whales, slaves, YIKES! Murray seamlessly slips loaded images of the slave trade and its atrocities into it's proper place in romantic seafarin" mythology. Disturbingly cute vignettes of slaves on the beach and blood on the decks fill a gap our collective memory with a gentle bite. With the self-taught artist's typical refusal to do what is expected, other bottles portray comparatively innocent whaling scenes and South St. Seaport in the same folksy style. And on top of all that, how did he get those things in those bottles?
Upstairs, Andrew Groocock's brightly colored constructions hang from the black ceiling like model starships or mechanical stalactites. Intensely self-involved, Groocock's sculptures focus on the intricacies of how one tiny part fits into another at the expense of all else: color, scale, texture, materials, imagery. It's hardcore formalism in the best constructivist tradition, but seems repetitive and overcomplex.

All images are courtesy the artists and Lawndale.

Bill Davenport is an artist and writer and was one of the first contributors to Glasstire.