Drawings are a housebroken art form with separate rules from other art. Since it is difficult for a drawing to compete with paintings and sculpture on the basis of sheer physical presence, color and material are by convention politely set aside to make room for intimate contemplation of subtleties. Drawings are not expected to be impressive.
Locating Drawing
is a loose, salon-style hanging of 82 disparate works which invites button sorting. Democratically mixing masterworks with unknowns allows the viewer to compare apples with apples, rather than seeing drawings as an adjunct to other works. Nearly half of the drawings are worth looking at, but I can only hit the highlights: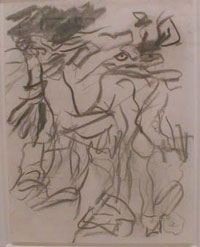 I'm embarrassed to like the old masters: de Kooning's squiggles (#33, 34) have a verve which is missing in many similar gestural abstractions, Lichtenstein's Ball of Twine (#36) is a sturdy pop icon, Guston (#22) and Ruscha's (#7) drawings sing amid the mumbling. Louise Bourgeois" unpretentious sketches (#44-46) on random bits of paper are still fresh. Jasper John's murky, inconsequential Target with Four Faces (#19) is the notable exception.
Other highlights were Jockum Nordstrom's Housemaid's Flat/Husans Rum (#50), a bizarre, primitive rendering of an apartment interior in which such clumsy, painstaking attention is paid to the textures of rugs, furnishings etc. that the S&M party in the foreground seems an afterthought. Martin Kippenberger's wry hotel stationery piece includes a hilarious attempt to use Cyrillic alphabet press-type to spell German words.
For most artists drawing is a second language. Unsurprisingly, artists whose primary work is drawing stand out:
Raymond Pettibon
's
No Title
(#2) collects fragments of vivid, surreal horror on odds and ends of paper. Ed Ruscha's
House of Torment
(#7) floats eerily. In David Dupuy's untitled #1130001 (#43), a stiff, gummy tree in worked-over pencil manages to seem metallic an gelatinous at the same time.
The show contains a fair number of souvenirs: studio leftovers, pages from old sketchbooks, doodles. Some artists think that anything they touch is worth selling, and sometimes they're right. Like animation cells, each fragment isn't really a work in itself, but, like a splinter of the true cross, allows the purchaser to participate without spending a fortune. Why not? Artists want to make a living, too, but it's not worth criticizing gewgaws. Along with de Kooning and Bourgeois, R.Crumb's placemat of caricatures (#11), Kara Walker's working doodles (#4) and Charles Long's sketchbook pages (#63-65) typify this genre.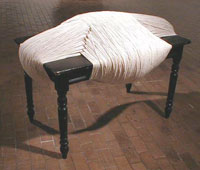 The least interesting works are mere products, carrying the stigmata of artists trying to manufacture works assembly-line fashion. I like each drawing to be a fresh investigation, not simply an inventory number. The deckle edge (that characteristic ragged border on fine art paper), coupled with speedy, careless execution and standard format are the giveaways. Sue Williams" pair of stylish but vacuous cartoons (#48, 49), Robert Moskowitz's triptych of pencil pips (#56-58), Rachel Lachowitz's lipstick blots (#51) and Mel Zeigler's arty Mulch House are the most egregious.
Donald Lipski: A Brief History of Twine
Blaffer Gallery, The University of Houston
January 12 – March 25, 2001
Donald Lipski's assemblage work, which makes up the bulk of A Brief History of Twine at U of H's Blaffer Gallery is part of a long history of modernist found-object art. American Flag Ball #2 is typical, doing what Lipski does best: using clever formal manipulation to give familiar objects a surprising twist. Mildly iconoclastic, it's success relies more on its colorful pattern of knots, stars and stripes than on any political statement.
Pieces like Untitled 91-08, a kitchen table wrapped with mounds of white cotton string, and Untitled 1991, an antique crib full of candles, lack the tactile urgency and psychological depth of canonical surrealist pieces like Meret Oppenheim's Object of 1936 (the fur-lined teacup) or Man Ray's Gift of 1921 (the nail studded iron). All of these pieces rely on the abrupt juxtaposition of two elements, but Oppenheim and Man Ray go further, evoking all sorts of squirmingly uncomfortable subconscious urges. Dulled by a patina of nostalgia, Lipski's objects fall flat, content with less gripping formal contrasts.
From Rauschenberg and David McManaway, to Ed and Nancy Keinholtz, Texas has always had a warm spot for artists who use folksy old junk. Like stone-washed jeans, Lipski's pre-aged constructions use a sense of the antique to distance themselves from the embarrassing banality of the real world embraced by artists like Jeff Koons, Haim Steinbach. A backwoods Arman, Lipski uses a conventional vocabulary of old flags, old cribs, old books, rusty metal and weathered wood to make art which essentially affirms traditional American values like thrift, regular-guy working class populism, and rural nostalgia.
Aside from assemblage, the show presents scattered samples from other bodies of work, including faux logs from the Exquisite Corpse series, humidors from theTobaccolage series, a steel cage from Pieces of String Too Short To Save, and Waterlilies #58, one of a large number of pieces involving preserved plants in glass tubes. Too small to be a survey of Lipski's omnivorous and prolific career, the show ends up a collection of loose ends.

Images appear courtesy the artists and galleries.

Bill Davenport is an artist and writer from Houston.