Lisa Ludwig's show Stupor, at Moody Gallery, is romantic in the classic sense: evoking a feeling of sentimental fragility centered on traditionally feminine images such as flowers, candy, fruit, and weddings.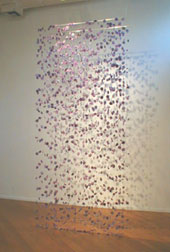 Her three sculptural pieces are made from silk flowers encrusted with a sparkly glaze like ice or sugar, giving the show a faint upper-class nostalgia which makes the final effect more like an upscale florist's shop at Christmastime than the psycho-sexual sleigh ride it wants to be.
Ludwig uses loaded images that suggest ideas about virginity, marriage, womanhood, and temptation but stops short, literally sugarcoating them, and settles for a collage of conventional romantic icons. In
Procession
, a double row of upside-down bouquets marches along a carpet of white sand. In each bouquet, a half dozen tulips stand stiffly on their heads, green stalks in the air like bridesmaids in green skirts. In
Bridal Wreaths
each 18″ wreath is made of eight sugarcoated sprigs of faux cherries. In
Tears
, a cascade of violet flowers drips from ceiling to floor. Ludwig's tendency towards overly literal metaphors (bride=cherry, bouquet=bridesmaid, tears=rain) mars her fresh and sensitive handling of unusual materials.
Ludwig is at her best with restrained and formally elegant pieces like Tears, which, despite its heavy-handed title, I am content to enjoy for it's free-floating gesture, delicate color and complicated shadows. It has a misty romanticism reminiscent of a spring shower, or the cloud of airborne flowers in Boticelli's Birth of Venus.

All images appear courtesy the artists and galleries.

Bill Davenport is an artist and writer and was one of the first contributors to Glasstire.